New video tour available for Advanced Direct Remailer!
February 12, 2002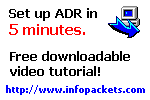 This video is for users of Advanced Direct Remailer (ADR) who wish to use Outlook Express with a simple mailing list. This tutorial shows you how to set up the localhost with Outlook for use with ADR, set up a simple mailing list with ADR, and have ADR parse the message to send to your list. This tour is a third-party video tutorial, created by
Infopackets
. In order to watch the Infopackets video tutorial,
you must
first
download and install the TSCC video codec
. A further explanation about the TSCC codec is available
here
. You can learn more about ADR at the
ADR home
and download it from our
downloads
page.