Email overtakes DM as marketing choice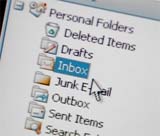 August 14, 2007
Email marketing has overtaken direct mail in terms of volume for the first time, according to the Direct Marketing Association's Email Marketing Council.
In a report published today, the DMA reveals that the number of marketing emails increased by 50 per cent during the last quarter to 1.6 billion while direct mail fell two per cent to 1.2 billion.
At current growth trends, email is set to smash direct mail's five billion mark for the year as its efficiency and effectiveness continue to attract new users.
Richard Gibson, chairman of the Email Marketing Council Benchmarking Hub at the DMA, said: "The continued growth of email marketing reiterates its importance as an effective marketing channel – for both retaining existing customers and generating new customer relationships."
All respondents believed that email volumes are set to carry on growing by about another third, citing the targeting (42 per cent), the offer (33 per cent) and the creative (25 per cent) as the main reasons.
The survey also reveals that email deliverability continues to improve, with hard bounce rates standing at two per cent, down from six per cent in the first quarter.
"To maintain its importance, it's vital that the medium is used responsibly," said Gibson. "Breaching best practice guidelines and the DMA Code of Conduct not only brings the medium itself into disrepute but also has the potential to massively damage a brand."
Robert Keitch, director of media channel development at DMA, added: "It's a very dynamic time for the direct marketing industry as expenditure across the majority of media continues to rise… The growth in email marketing underlines its power as both a standalone medium and its role within integrated campaigns."
The companies participating in the DMA study are said to represent more than 75 per cent of UK emails delivered via ESPs.
Author: Arif Durrani
Source: http://www.mad.co.uk/Main/News/Articlex/e5a1cf66a67c4b9cbd18...