Wave of text-message spam hits area cell users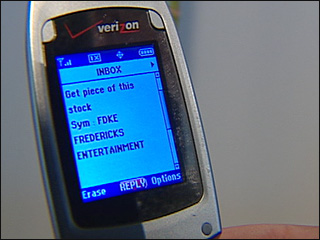 August 30, 2007
SEATTLE -- A large number of cellular phone customers received unwanted text messages over the weekend pitching a penny stock.
It's not an entirely new problem, but the volume of spam that got through over the last few days was much larger than normal, and for many cell users it was the first time they'd received spam on their phones.
My friend Bill Rice, midday anchor on KOMO 1000 News, got the message on Saturday.
"It was a stock offering of some kind or some kind of stock sale," he said. "I was just appalled. It was the first time I'd ever gotten anything like that."
Rice wasn't alone. Cell phone customers from carriers across the country reported receiving the spam message, and it even made it through to text pager users.
We're all used to receiving spam in our e-mail, but cell phones in the U.S. have so far been a relative safe-haven from unsolicited bulk messages.
It's not possible to know the exact number of messages that got through, but the text message pitching a company with the stock symbol FDKE was received by people across the country.
The spam messages are likely part of what's known as a "pump and dump" stock scam, in which the scammer buys a cheap stock and promotes it in an attempt to quickly drive up the price so he can sell for a large profit.
The scam is most common with penny stocks, and the stock endorsed in this weekend's spam messages saw a visible spike in its asking price beginning on Monday.
"They want one in a million people to look at this message and say 'maybe this is a good stock to invest in,' " said Bob Sullivan, who writes the "The Red Tape Chronicles" for msnbc.com and also received the same spam text message. "If they just get a few hundred people around the world to buy a few shares of this stock, they can make a killing."
People are making millions of dollars with this type of scam, Sullivan said.
Verizon Wireless says it's not sure how the messages slipped through its filtering systems.
"We take great lengths in the way of filters and technology to actually block most of these," said spokeswoman Georgia Taylor. "Up to 50,000 text messages are blocked each day with these filters."
Taylor says the company did not and will not give out customer phone numbers. This particular attack, she says, was likely done by automated random dialing.
"One spam message is one too many as far as we're concerned," she said. "We protect our customers' privacy."
Sprint spokeswoman Caroline Semerdjian said there were two simultaneous spam attacks that overloaded their filters, allowing many of the junk messages to make it through to users' phones.
Since I first reported this story, several viewers have contacted me and said as customers of AT&T and U.S. Cellular, they, too, have received the described text message.
What can you do?
If you receive spam text messages and have a text-message plan then the spam didn't cost you anything. It just reduced the number of messages you can send and receive this month, but you should call and ask for a credit if you think it will cause you to go over your message limit.
If you pay on a per-text plan you should call your cellular service provider and tell them you want a refund for the cost of the message.
Other than blocking all text-messaging features on your calling plan, there's no way to prevent such messages from being received in the future. You have to rely on the cellular companies to filter out the junk.
Author: Herb Weisbaum, KOMOTV
Source: http://www.komotv.com/news/9455531.html