Live Support Chat availble for all visitors!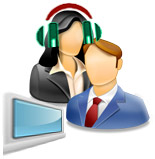 July 29, 2010
If you don't find answers to your questions there then you can use our LiveSupport Chat to contact one of our available support staff members and we'll help you online!
Please note:
LiveSupport chat available during 10:00 - 16:00 GMT +01:00 (Business days only)
IMPORTANT!!!
LiveSupport Chat required MS Internet Explorer 5.0 (or greater), Mozilla or FireFox browsers. JavaScript must to be allowed.
Author: EMMA Labs